CMS Commander Review
Last Update: July 28, 2021 at 9:39 pm
CMS Commander Review and CMS Commander Discount coupon code for you to save money. Bulk WordPress More Websites Management Software –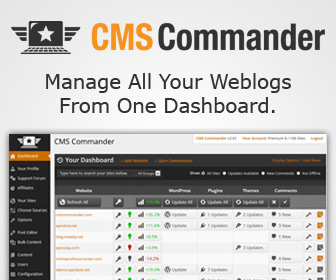 CMS Commander is a remote management software plugin for WordPress, Drupal, Joomla and phpBB websites. Simply add all your websites to your CMS Commander account and then contrl them all through a secure SSL connection. Save lots of time by bulk managing your site network with all of CMS Commanders features: Install new plugins on all your websites simultaneously, automatically update plugins and themes when new versions are available, create automatic backups of all your sites, remotely manage user accounts, articles, comments and much more!
Sign up for your free CMS Commander account now!
I sure you must know the Manage WP, allows you Manage WordPress Sites from One Dashboard, include Access, manage, update, and backup all your WordPress sites, but which is only magage WordPress blogs. And great news for everyone, The creator of the WP Robot autoblogging plugin – Thomas Hoefter has created a platform called CMS commander to make it easy for webmasters to have a central dashboard to manage sites that are WordPress (of course) but also sites created in Joomla, Drupal and phpBB.
CMS Commander Will Help You Save Time And Earn More! And the key features:
Automatic Content

PLR Article Posting
Over 20 Diverse Content Sources
Enhance the Articles You are Writing
Bulk Update Your Existing Articles
CSV Datafeed Posting
API Content and Affiliate Posting

Article Builder API Autoposting to WordPress, Drupal, Joomla and phpBB

Automatic Content Rewriting
Bulk Posting and Scheduling
Post via Email (to WordPress.com, Blogger, Tumblr, etc)
Support for Popular Rewriting Software: CMS Commander supports the powerful rewriting software

Bulk Website Management

WordPress Management Software

WordPress Autoposting
Automatic WordPress Backups
Bulk Edit WordPress Posts and Pages
WP Robot Management and Control Center

Joomla Management Software
Drupal Management Software
phpBB Forum Management Software
CMS Support Table for all Features

Security and Statistics

No Need to Enter your Passwords
A Secure SSL Connection handles all communication between CMS Commander and the plugin
Google Analytics Integration and Network Statistics
Network Traffic Stats: Aggregated traffic statistics of all your websites in a single graphic
All Important Statistics:like bounce rates, the percentage of new visitors, average time on site and more.
Manage your sites – check comments, add content
The purpose of CMS Commander is to make the day-to-day management of multiple websites easier and save the user time by automating repetitive processes and completing them in bulk on several domains.
Your CMS Commander Discount coupon price is giving on! Interested visitors can sign up for a free account on cmscommander.com in order to test CMS Commander for an unlimited time.
Subscribe CMS Commander and claim your Discount Coupon price now!
CMS Commander Coupon Code offers.
Wish you a very happy new year 2013! Right now you can use the CMS Commander Coupon Code or CMS Commander discount code to subscribe CMS Commander, You can get 20% off!
View CMS Commander Coupon Code,
Click Here
Display the CMS Commander Discount Code:
To use the discount simply log into your CMS Commander account and subscribe with the code. By using the code you will save 33% off your monthly subscription costs on any CMS Commander plan for as long as you keep your account, even if you upgrade or downgrade in the future.
Your Lifetime CMS Commander Coupon Code: Use It Now!
Tagged with:
CMS Commander
•
CMS Commander Coupon
•
CMS Commander Coupon Code
•
CMS Commander Discount
•
CMS Commander Discount Code
•
CMS Commander Review
•
Wordpress CMS Commander Plugin
•
WordPress Management Software
•
WP CMS Commander
•
WP Robot
Filed under:
Premium Showcase Themes
Package:
Legal and Working Download .ZIP .RAR
Disclosure Affiliate Links: Disclosure of Material Connection: Some of the links in the post above are "affiliate links." This means if you click on the link and purchase the item, I will receive an affiliate commission. Regardless, I only recommend products or services I use personally and believe will add value to my readers.