Themify Builder Review
Last Update: September 28, 2022 at 10:30 pm
Themify is very excited to annouce their new drag & drop framework – Themify Builder. A user interface easily drag & drop theme framework, All Themify WordPress themes now include Themify Builder, an intuitive way to build beautiful designs and layouts by dragging and dropping your content.
Themify Builder is a drag & drop WordPress theme framework that lets you arrange content by dragging and dropping with live preview. Which provides easy to use user interface which allows you to arrange the content blocks on the frontend by dragging and dropping. 
Themify Builder works on all post types such as post, page, and any custom post types registered by plugins such as WooCommerce. Also, shortcodes are supported within the Builder modules. Not to mention that Themify Builder is completely responsive and works on desktop and mobile devices.
Themify builder modules include
Modules are the various components you can add via the Themify Builder, they comprise various types of content such as menus, content boxes, posts, etc. Modules Include:
Accordion – Accordion or toggle-able content
Box – Boxed content with shortcode support
Callout – Call to action text box
Divider – Customizable horizontal divider
Gallery – WordPress lightbox gallery
Highlight – Feature or service highlights
Image – Image with title and caption
Map – Customizable Google Map
Menu – WordPress custom menu
Portfolio – Portfolio custom post type
Post – Displays Posts from any categories
Slider – Slider of images, videos or text
Tab – Vertical or horizontal tabs
Testimonial – Testimonial custom post type
Text – Text using the WordPress visual editor
Video – Video embeds (eg. YouTube, Vimeo)
Live Edits & Previews
Themify Builder is super easy to use. To start: simply dorp in a module, configure the options and the actual content will appear instantly on the page. You can then rearrange the content block, rows, and grids by dragging. It works with static content (text, images, videos, etc.) and dynamic content such as displaying posts from the database or running shortcodes.
Build Unlimited Layouts
You can create unlimited layouts with Themify Builder. You can design any layout type from a simple portfolio page to a business homepage or large complex grid layouts.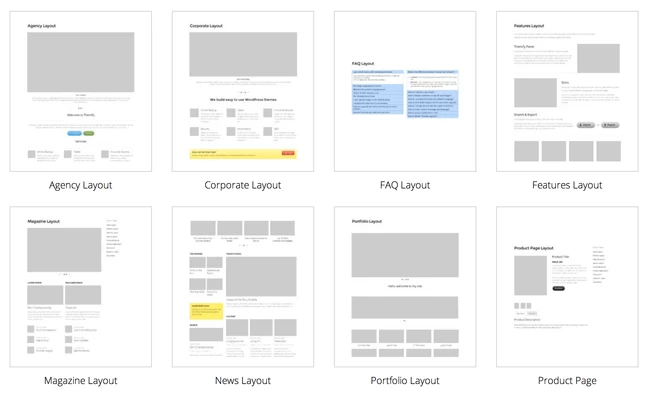 Run Any Shortcodes
 Themify Builder gives you the ability to run any shortcode within the builder. For example, you can display a Twitter feed shortcode within a tab or insert a WordPress gallery shortcode in an accordion
Work On Any Post Types
Themify Builder works on standard WordPress Post, Page and any custom post types created by the theme and plugins. Imagine the capability to extend the WooCommerce product page with the Builder. You can add galleries, sliders, accordions, tabs, and etc. to the product page.
More Themify Builder Features:
Responsive – Responsive designs that work on desktop and mobile browsers.
Drag & Drop – Arrange content blocks and rows by dragging and dropping.
Live Preview – Edit everything live on frontend. What you see is what you get.
All Post Types – Support any post types such as Post, Page, WooCommerce, etc.
Shortcodes – Run any Themify or third party shortcodes within the Builder.
Preset Designs – Builder comes with many preset layouts and colors
For more Themify Builder – Drag and Drop WordPress theme Builder details go to Themify.me.
Tagged with:
Drag and Drop Builder Plugin
•
Drag and Drop WordPress Theme
•
Themify
•
Themify Builder
•
WordPress Theme framework
Filed under:
Premium Theme Framework
Package:
Legal and Working Download .ZIP .RAR
Disclosure Affiliate Links: Disclosure of Material Connection: Some of the links in the post above are "affiliate links." This means if you click on the link and purchase the item, I will receive an affiliate commission. Regardless, I only recommend products or services I use personally and believe will add value to my readers.